About Glean 5
---
About Glean 5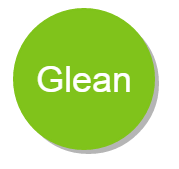 Glean 4 is now closed to new users.
Since 2006 we've kept you informed of changes in our business and products, particularly when it affects your money or daily trading.
In this spirit Pracplay is announcing that- effective immediately- Glean registrations are closed to new users. Existing users and clients can continue using Glean until the end of 2017.
As part of this change, Glean as a retail product will end with version 4. Glean5 technology is being re-purposed into a new experience for interacting with the markets. At launch, we'll allow Pracplay users early access. If you'd like to be included in this group, sign up here.
Questions
Why are you doing this?

On mission for 10 years, aiming for 10 more.
We're doing this to make the 'Take Fun- Make Value' vision more clear.
Why now? Why not keep doing Glean until the next product is available, as you've done in the past?
There's two reasons- since Glean as a user experience is ending, existing users need plenty of notice. The other reason- the Glean5 tech is complete and it'll be more fun and more true to the mission when all Pracplay eggs reside in one basket, rather than upgrading Glean indefinitely.
Will your next product appeal to people using Glean today?
Although not for every user, we believe it'll be even more appealing to most.
To see why, be sure to sign up.
How long do I have to move?
All Glean users will lose access on December 31st, 2017.
This date assumes you remain an active lease client or keep using Glean every 3 months per our minimum usage policy and usage terms.
If you cancel or stop using glean, you won't be able to sign back up.
I'm using Glean4 and I want to stay with my current broker… what should I do?
You can opt to stay with your current broker and strategy as it exists today. You'll lose the ability to modify it in Glean and to create new strategies. To unlock a strategy and trade it without Glean, see the guide's unlock section.
Unlocks are only available to clients with active leases and will only be useful to those who can maintain their own c# code or hire a programmer.
As before, we do not provide support for unlocked strategies so don't unlock your strategy without having a programmer.
I'm a Glean4 client. I don't want to unlock. Where should I move and how long do I have to move?
You can migrate to another trading platform of your choice. You're receiving this notice in May of 2016, so you'll have up to 19 months to move.
If you're an existing client who wishes to move to Trade Station and wants a programmer reference, contact us and we'll provide a great referral.
Will you be adding features to Glean4 between now and 2018? What about bug fixes?
You shouldn't count on any major changes. If you're a Glean client with a special circumstance, inquire w/us as usual via Ctrl+H.
Can I sign up for the Glean5 new experience when it launches?
Yes but you should sign up now.

Take Fun. Make Value.